Monastiraki, a cultural melting pot
Monastiraki is one of the most popular and bustling squares in the center of Athens. The name "Monastiraki", meaning "little monastery" in Greek, refers to the old orthodox monastery that was once the hallmark of the area during Ottoman occupation. The little church of Panagia Pantanassa, with the beautifully painted vault, is what remains of the 10th century monastery. In the 18th century, Tzistarakis mosque was established, which triggered an impressive economic growth in the region making Monastiraki a commercial epicenter up until today. The mosque is currently an annex of the Museum of Greek Folk Art.

Hadrian's library is another site you shouldn't miss as you roam in the quaint streets of Monastiraki. Built in AD 132, on the north side of the Acropolis, the library once housed a large number of reading and teaching rooms, beautiful gardens and a pond for recreation. The philhellene Roman emperor's vision was to create an academic hub of Letters and Sciences. Across from the library you will find one of the oldest train stations in Athens built in 1895, Monastiraki station, displaying several archaeological discoveries found on Hadrian's Library site.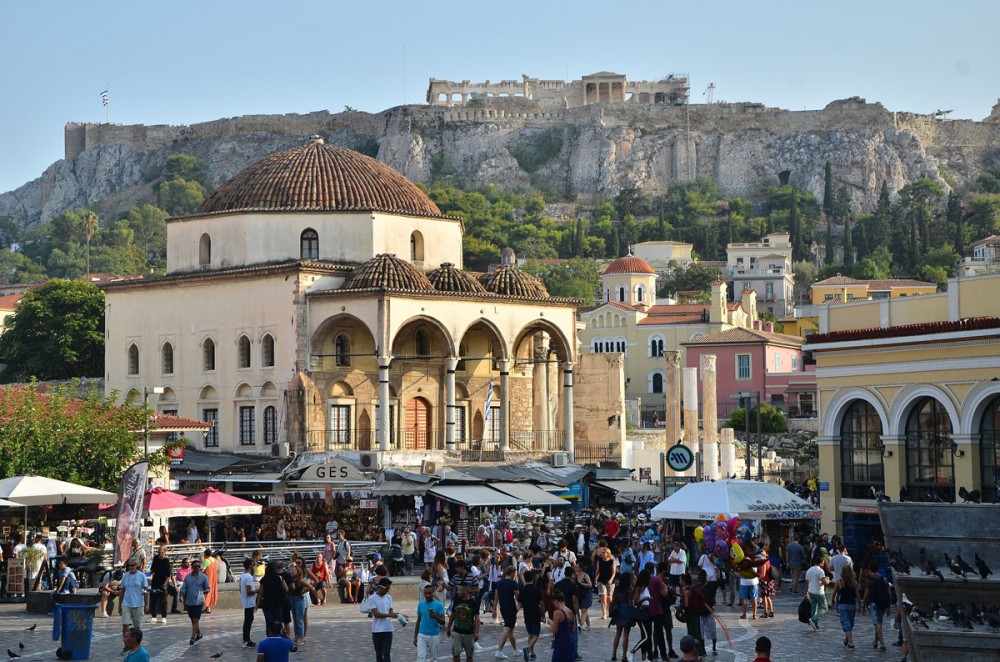 For many tourists and locals, Monastiraki Square is the threshold to the Flea Market, an open-air antique market that is held every Sunday at Avissynias square nearby. An impressive range of products can be sold or bought in Monastiraki flea market in a good bargaining price; old books and magazines, trendy and vintage clothes, handmade leather bags and sandals, vinyl records and cd's, furniture -or pieces of them-, ornaments, paintings, souvenirs, and so many more, will keep you browsing for hours.

Monastiraki is also known for cafes and bars with terraces that offer a 360° view of the city center, where visitors can sit, relax and try some refreshing drinks. Many restaurants and taverns can be found all around the square, serving local and international dishes that will satisfy even the pickiest palate.

If anything, Monastiraki is a magical place, where you will most admire the harmonic fusion of many different cultural elements. Don't miss the chance to stroll its picturesque cobbled roads and get to know one of the most diverse areas of Athens.